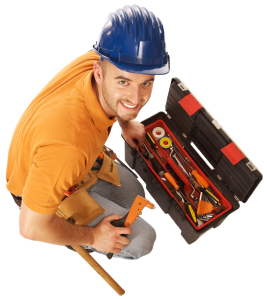 A handyman is a contracting professional that needs to be on the speed dial list of every homeowner and every property owner. Once you understand just how much a good handyman can do for you, it becomes apparent just how important they are to preserving the value of your property.
Whether you need someone to help you with your home or your business, it is always nice to know that you can make one phone call and get a variety of issues taken care of. The great convenience about having a reliable handyman available is the variety of tasks that a handyman can attend to without having to worry about calling a general contractor. A good handyman can also get the right kind of contractors involved in your project if he feels it is necessary.
Find a Handyman
Roofing
Every once in a while, we will see a drip come through the ceiling or notice shingles missing from our roof after a wind storm. Instead of waiting around for a roofer to answer your call, you are better off calling a handyman and getting him over to your home immediately to look at the problem. Most handymen can do basic roofing and you may even have a handyman who can do a large-scale roofing project for you if necessary.
Ignoring problems with your roof is never a good idea. Some people put off roof problems because of the potential costs and others just do not see the importance of addressing these kinds of issues. A handyman can give you an honest answer and a reasonable quote for fixing most of your roofing issues.
Home Repairs
How long has that porch step been in need of repair? Remember when you said that you would replace that cracked pane of glass in the front room window? Home repairs are essential, but they are also very easy to put off. When you have a good handyman on call, you can get those projects done inexpensively and by an experienced professional.
You should have your handyman look over the home repair projects you need done and give you an estimate on each one. Instead of saying that you never have the time to get your home repairs done, you can simply make the call to your handyman and have the project done in no time. A handyman is going to know little tricks that will get the jobs done quickly and make the final result look perfect.
Gutters and Downspouts
Most homeowners do not realize just how important good gutters and downspouts are to the overall condition of their homes. Gutters and downspouts carry rainfall away from your home's foundation and preserve your home for many years. When your gutters and downspouts are leaking or clogged, then they cannot do their jobs.
Gutters and downspouts need attention in the cold as well as the warm weather. A good handyman can repair and clean your gutters and downspouts each year to make sure that they are able to do their jobs.
Windows and Doors
Windows and doors do just as much to keep weather out of your home as they do to preserve the temperature within your home. When your windows and doors are doing their jobs, you can save money on your utility bills as well as enjoy a home that is heated and cooled evenly.
Replacing windows and doors, as well as maintenance work such as replacing weatherproofing around window and door frames, is work that is best left to professionals. Your handyman will know exactly what to do to maintain your windows and doors each year and he can also give you a competitive price for replacement work as well.
When windows and doors are not properly installed and maintained, then they are unable to do their jobs. A handyman knows exactly how to get the most out of your windows and doors regardless as to whether they are new, or if they have just recently been installed.
Painting and Flooring
Internal work such as painting and flooring can seem like cosmetic work, but it is actually very important for several reasons. Old rugs need to be replaced because they can capture bacteria that causes disease and become health hazards. A coat of paint on your interior walls goes a long way towards creating more value for your home.
Your handyman is an expert at painting interior walls and doing the flooring work that needs to be done in your home, instead of calling on an expensive painting or flooring specialist.
A handyman is the kind of contracting professional that can save you money, while getting you tremendous value at the same time. The next time you need a home repair job done, call a handyman and get the job done right.